Palazzo Sant' Angelo Hotel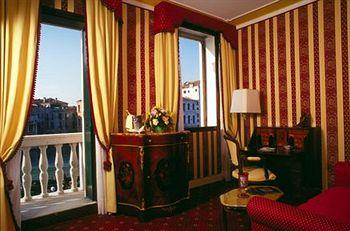 The 4 star boutique Palazzo Sant' Angelo Hotel Venice has the perfect location right in front of the Grand Channel. From here you will easily get to any sights you might want to see. Also you will get the opportunity to inhabit the room facing the famous channel and obtain the perfect view. It's placed in no more then 10 minutes walk from the awesome St. Marcus square. In case you're traveling by train, its only 1,5 km to Santa Lucia train station and 14 km to Marco Polo airport.
This Venice luxury hotel offers the true Venetian interiors which are still equipped with all the technological features you might need for a comfort staying in these quarters.
Palazzo Sant' Angelo Hotel Venice doesn't obtain its own private restaurant, still you can get your buffet breakfast on the served table every morning. If you're up to some late night drink, visit the bar nearby, which is opened till midnight. The luxury feature of the hotel is the private pier, so feel free to use the local boats for trips or excursions.