Hotel Relais Piazza San Marco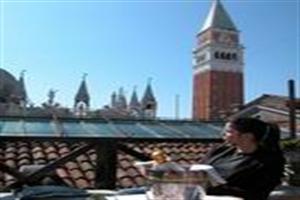 This luxury Venice hotel offers the international class of service, so if you need some special attitude and a lot of attention of the hotel stuff, opt to stay at the Relais Hotel of Piazza San Marco and be pleased all the time of your visit. The hotel is located in the most representative place of the city. From here you will easily get to the local sights and easily take part in any excursion you might get interested it. On the other hand all the city shops and boutiques, restaurants and bars as well as business centers are within easy reach. That is why the hotel suits for both businessmen and the leisure guests including even the just married couples.
Here are the main sights you can attend while your stay: San Marco's Basilica, Clock Tower, Doge's Palace, Museo Correr are within a walking distance.
Some of the rooms of Hotel Relais Piazza San Marco in Venice have been refurnished in the modern style, so now you can opt for the up-to-date interiors if you like. The buffet breakfast is served daily in the hotel restaurant.