Hotel Gorizia A La Valigia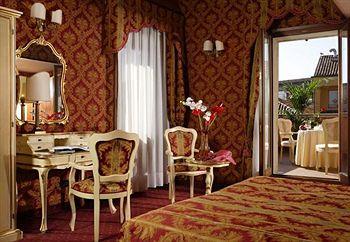 The hotel is placed in the heart of the city, which puts it rather close to the most valuable sights most people crave to see when coming to Venice. Its location is in the most privileged area known as San Marco, which is considered to be within easy reach to the most breathtaking places in the city.
You will need no more then three minutes to get from Hotel Gorizia A La Valigia Venice to famous San Marco Square, which is suitable for a daily walk and for savoring the natural beauty of the city. Rialto Bridge is within several minutes walk just as a lot of other points of touristic interest.
The special feature of this cheap hotel in Venice is its unique atmosphere that reminds of Monti Palace. All the quarters are fully refurbished and offer the interiors, where the style is not spoiled by the technological intrusion, which is present in all the rooms. The hall has been restored not long ago and is greeting you with all the elegance of classic Venice. Hotel Gorizia A La Valigia Venice is located close to the transport joint.