Hilton Molino Stucky Hotel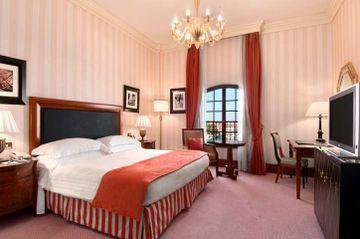 Hilton Molino Stucky Hotel Venice is rater popular luxury hotel in Venice. It's locates in the building of the former granary, so it's somehow the architectural sight itself. The attentive service and the awesome class facilities are making it really charming place, since it has been fully restored by now. Here are just several items from the long list of what the hotel visitors can see while a short excursion: Teatro la Fenice, Peggy Gugenheim Collection, Santa Maria della Salute and much more.
It's located right on Giudecca Island offering a lot of privacy to the guests. The benefit of the hotel is its restaurants offering various cuisine and atmosphere. The privileged Aromi restaurant obtains the Mediterranean cuisine being served on the terrace, while Molino offers the informal atmosphere with the international dishes. Try al fresco dining in the creative Skylunch pool restaurant.
Hilton Molino Stucky Hotel Venice offers the SPA treatment and the luxury swimming pool situated on the top of the roof. Savor your swimming and the breathtaking panoramic view over the Venice.